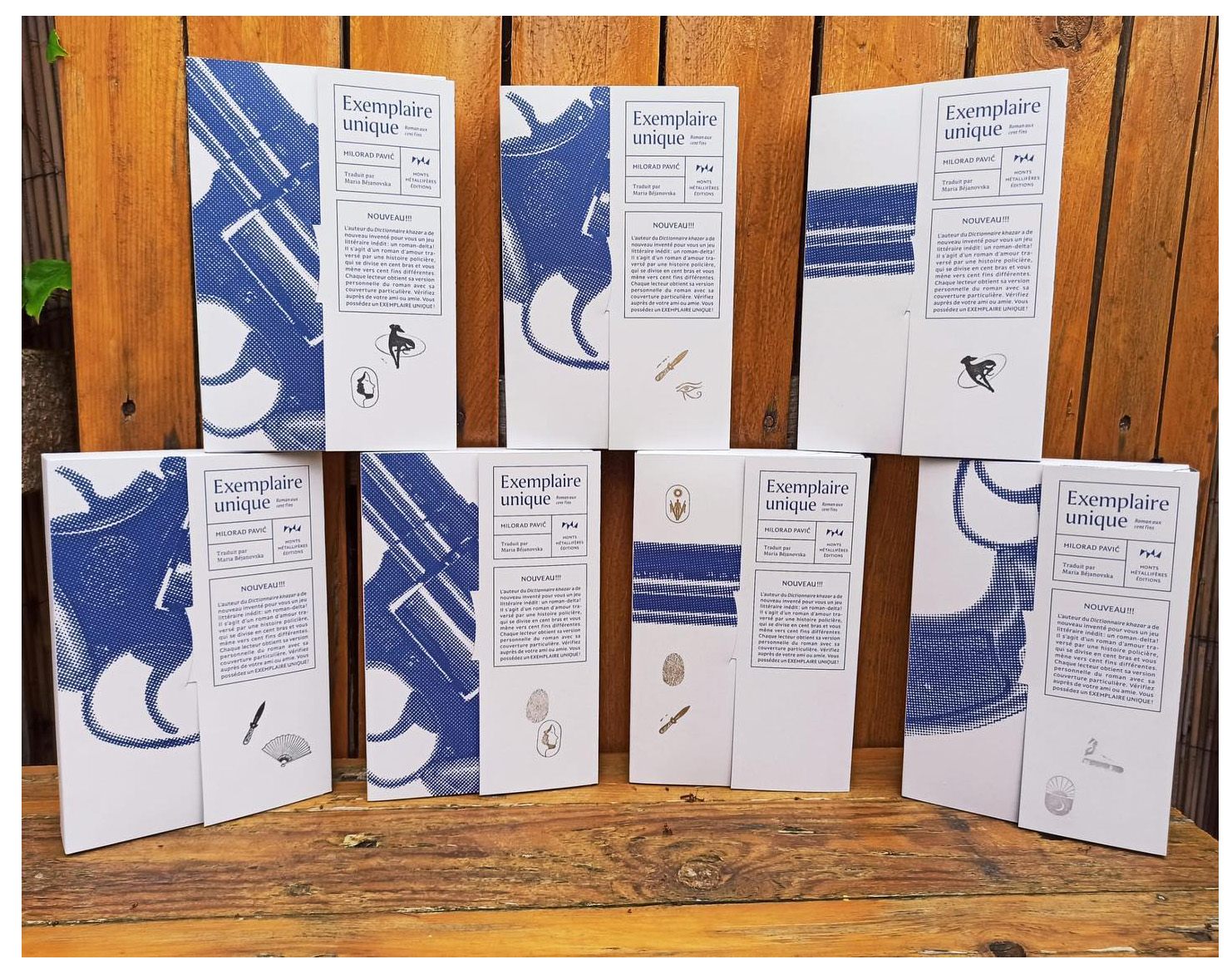 Pavić's Unique Item has come out in French for the first time this year, 2021, just before the author's birthday on October 15th.
The novel, published by Dereta in 2004, has now been printed by young French publisher Monts Metalliferes, translated by Marija Bežanovska.
The book took a long time to prepare, so as to be exclusive in every regard. A quick reminder: Unique Item is a delta novel. It has a hundred different endings, and readers can choose one, several, or all 100. The publisher can choose whether to print this book in one volume or two – one volume being the novel itself, and the other the various endings.
The Serbian and Mexican publishers opted to print the novel in two volumes: Unique Item and Blue Book (containing the endings of the book, numbered 1 to 100).
Lyon-based publisher Mont Metalifere has decided to publish the Unique Item in a box, where the reader will find the novel on one side of the box, and the 100 endings on the other, printed on separate sheets of paper so that they can be shuffled and read however he/she prefers.
"We would like to have 100 different bindings – says the publisher – but that is extremely complicated and expensive. Therefore, there will only be 4 different front covers: variations around the same theme, Combat Magnum 586, as described by Pavić in Ending No. 73. "
Buying this book, say the critics, the reader receives one hundred ends instead of one. The author of Dictionary of the Khazars has invented a unique literary play – a delta novel. This is a love story based on a detective tale spreading out into one hundred branches. In this way there are one hundred endings to the story. Every reader chooses his personal version of the novel and his own special end to the tale. Finally, every book lover will possess – a Unique Item!
The French translation is the seventh translation of the Unique Item, which has so far been published in English, Russian, Spanish, Bulgarian, Romanian, and Slovenian.