In Paris, in the theatre Odeon, Milorad Pavic's Dictionary of the Khazars was given the Le Nuit du Livre award for literature for 2016. The book was awarded because of Milorad Pavic's extraordinary text and Gabrielle Coze's graphic design which gave it the magnificent look. Le Nouvel Attila is the publisher.
The Le Nuit de Livre award celebrates the beauty in the books by rewarding authors' talents, whether they are writers, photographers or illustrators, as well as publisher's associates. The award's jury thinks that "the beauty of the book is the result of the perfect encounter between the author's intellectual universe and the designer's technical universe."
Publié le22 mars 2016par bejanovska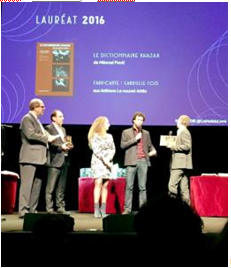 Une belle récompense pour le texte exceptionnel de Milorad Pavic et la graphiste Gabrielle Coze qui lui a offert un habit royal!
LE DICTIONNAIRE KHAZAR LAURÉAT DU PRIX LA NUIT DU LlVRE – catégorie littérature.
La Nuit du Livre a pour ambition de célébrer la beauté dans les livres, en récompensant le talent de l'auteur, qu'il soit écrivain, photographe ou illustrateur, mais aussi le talent du fabricant pour la maison d'édition. Le jury de ce prix considère que « la beauté d'un livre est en effet le résultat d'une rencontre parfaite entre l'univers intellectuel de l'auteur et de l'univers technique du fabricant ».
Fraîchement diplômée de l'ESAG Penninghen en direction artistique et art graphique, Gabrielle Coze s'est spécialisée dans les domaines de l'édition et de l'identité de marque. Son approche du design se résume comme elle le décrit: « Le design graphique peut être typographique; noir est une couleur; blanc un silence; le détail fait souvent l'ensemble; on peut toucher des yeux et regarder avec les mains; l'erreur sait surprendre. »
Pour Le nouvel Attila, elle a été une rêveuse designeuse de Khazars.
https://mariabejanovska.wordpress.com/