What The Reviews Say
In his fatherland Pavić was accepted in the best way from the very moment he published Dictionary of the Khazars. The first review of that "book of the future" anticipated a lot of things critic will have later to say: "This wonder of a book is at one and the same time a novel, a collection of stories, a book of verse, a historical study, a cabalistic handbook, in short – absolute literature" (Raša Livada).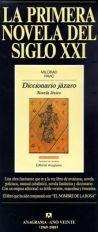 "Notwithstanding the age in which the story is set, his manuscript is as though written by the wise hand of ancient, sacral, mythical and magical high priests and magicians who hold in their hand the secret of man's fate, and open it only after great exploits and ordeals have been accomplished, when man can change nothing more…" (Zoran Gluščević). French and Spanish reviews say: "Pavić is the author of the first book of the XXI century" (Paris Match 1988), and in Austria he is "Stabführer der europäischen Postmoderne". For The Washington Times Pavić is a "Homeric storyteller", for Anthony Burgess Pavic's intention seems " to be to elevate the book or BOOK, or Box of Organised Knowledge into a magical object – a near-animal that can talk to itself or to other books, a lethal weapon" (Observer 1989). For South America he is "one of the most important writers of today" (Veja, Sao Paulo). Among living authors Pavic is the most cited by electronic (hyperfiction) writers in the US in 1992 and 1993 as Robert Coover said in The New York Times (1993). "Pavic es una de las grandes figuras de la literatura mundial" (Tiempo, Madrid 1994). "There are books provoking in the reader something like a chemical reaction… Dictionary of the Khazars contains such a "poison" (Mainichi Shimbun, Japan 1993). "In his work we have the unity of Byzantine mysticism and the energy of Balkan tradition and myths" (Evgenios Aranicis, Elefterotipia, Athens 1994). "In Last Love in Constantinople we find that wonderful literary imagination and poetically inspired language which secure Pavic a special place in modern literature… A place in every prose anthology" (Aleksandar Jerkov). "Each copy of Pavic's book will live it's own life" (Pazit Ravina, Davar, Israel). "Welch phantastischen Konstruktion, welche labyrintischen Paradoxa, welch trostlose Geschichte zwischen Tod und Tod" ‡ says the German reviewer of the novel Inner Side of the Wind (Rheinischer Kurier 1995). "Erneut stellt Pavic seine unbändige und mit tausend Ranken ins Geheimnisvolle spriessende Fabulierkunst unter Beweis." (Mittelbayerische Zeitung, 1995). "Il nous a contaminé par une connaissance d'un autre genre" (Alain Bosquet). "Pavic has the power to transcend the tradition of the 20th century novel in a way which differs from that of the "nouveau roman" and "nouveau nouveau roman" (Nezavisimaya gazeta, Moscow 1997).