Pavić in Greece, Russia and China
On the ocassion of 30 years from the first edition of the Dictionary of the Khazars (1984) and 5 years from the death of Milorad Pavić, Greek ΕΛΕΥΘΕΡΟΤΥΠΙΑ had dediceted its whole October literary issue ΒΙΒΛΙΟΘΗΚΗ to this Serbian writer.
In the add-on The Building of Spheres, Athens newspapers have published on four pages texts of Greek critics, photographs of eight translated books of Pavić, an article about the success of the Dictionary of the Khazars in China, excerpts from Two Fans from Galata which will soon be published; as well as the text Acoustics of Spheres by Goran Petrovic, which was specially ordered for this occasion.
http://www.enet.gr/?i=news.el.article&id=450462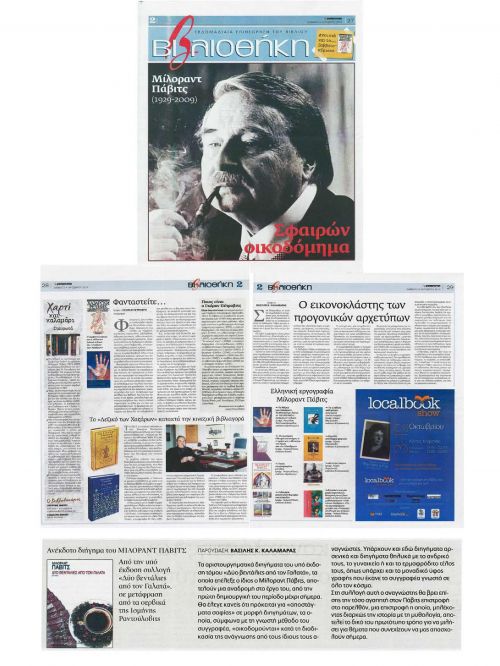 Russian web portal Arguments and facts (Аргументы и факты), on the occasion of Pavić's birthday (15.10), has published a lengthy text about the life and work of the writer, reminding us of Pavic's Collected Works, which have been published in Russia several times. Elena Dudnik is the author of the text Bibliography instead of biography.
Recently the text about the Bequest of Milorad Pavić has been published in the luxurious Chinese magazine Travel +, in the issue dedicated to the Balkans. Belgrade and Serbia have been presented through Pavić's literary work and legacy. 
http://www.travelplus.cn/journal/2014nian6yuekan/2014/0530/1098.html