30 YEARS FROM THE FIRST EDITION OF THE ''DICTIONARY OF THE KHAZARS'' BY MILORAD PAVIĆ (1984 – 2014)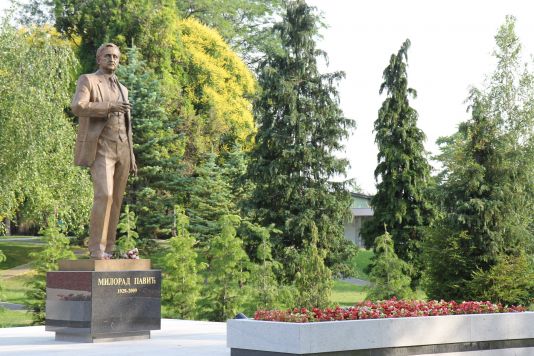 30 years have passed from the first edition of the ''Dictionary of the Khazars'' – a lexicon novel in 100.000 words by Milorad Pavić (1929 – 2009). From 1984. up to today more than a million copies of the novel have been sold in ex-Yugoslavia and Serbia, and it has had 103 editions (ordinary, digital and audio editions) in 36 languages.  The novel which takes the shape of dictionary entries tells the story of three religions – Christianism, Judaism and Islam, of the lost Khazar empire, the Middle Ages, baroque and modern era, of dreams and Dream hunters. The novel has been named ''the first novel of the 21st century'' by literary critics worldwide.
All around the world from New York to Moscow there are plays based on this novel, there are performances, exhibitions inspired by the book, there are clubs of fans of Pavić, the novel is being analyzed in the literary departments in various faculties and universities from all over the world, people are writing master and PhD thesis about the novel, they are making comics and Facebook pages…
Milorad Pavić was nominated for the Nobel Prize in literature. The Library of the University of Novi Sad (Serbia), where he was the dean was named after him, and there are two monuments – one in the centre of Belgrade (Tašmajdan) and one in Moscow (the Building of Foreign Literature).
The manuscript of the ''Dictionary of the Khazars'' is in his Bequest in Belgrade, and facsimile of the manuscript is in the Museum of Literature in Baku (Azerbaijan). 
Media: 
Press
http://www.novosti.rs/vesti/kultura.71.html:500399-Tri-decenije-Hazarskog-recnika
http://www.novosti.rs/vesti/kultura.71.html:500508-Jubilej-Hazarskog-recnika-Kako-je-mlinar-postao-pekar
http://www.dnevnik.rs/kultura/citalac-vodi-knjizevnost-u-buducnost-ne-pisac
Jasmina Mihajlović's interview
http://nedeljnik.co.rs/sr/2014/04/17/tema-broja/tajni-ivot-milorada-pavia
http://www.laguna.rs/zn575_zanimljivost_intervju_-_jasmina_mihajlovic_pavic_je_svuda_vise_ziv_nego_u_srbiji_laguna.html
TV – Pavić's monument in Moscow 
https://www.youtube.com/all_comments?v=aCri7fMZZEM
A piece about 30 years from the first edition of the ''Dictionary of the Khazars'' - Dnevnik 2 RTS, 6. 07. 2014.

http://www.rts.rs/page/stories/ci/story/8/Култура/1641905/Три+деценије+"Хазарског+речника"+.html

Photographs
Pavić's monument in Moscow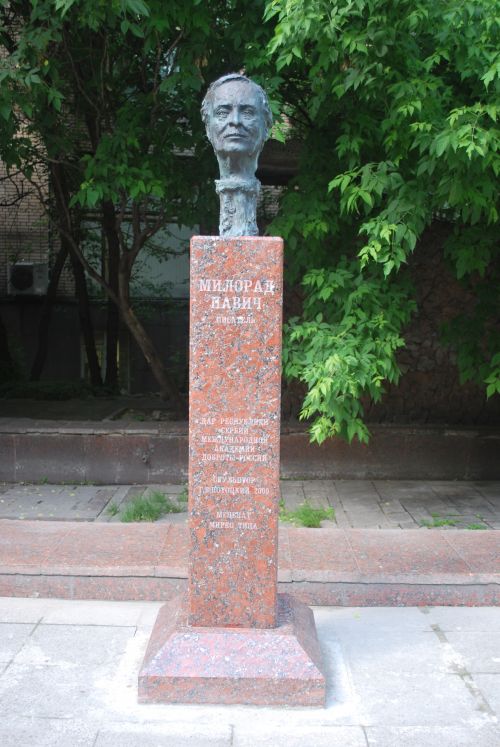 The manuscript of the ''Dictionary of the Khazars'' (the Bequest of Milorad Pavić in Belgrade)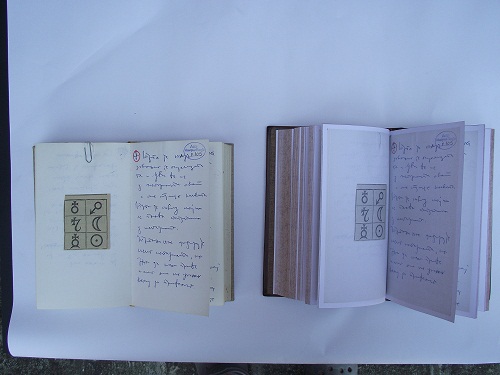 The facsimile of the manuscript of the ''Dictionary of the Khazars'' (Baku, Azerbaijan)