Milorad Pavić's monument arrived from Azerbaijan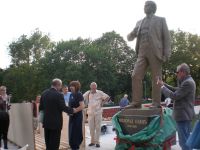 On Friday 20th May through diplomatic cargo flight, bronze monument of  Serbian writer Milorad Pavić arrived from Azerbaijan. Official unveiling ceremony will be arranged 8th June 2011. with Serbian President Boris Tadić, President of Azerbaijan Ilham Alijev and Pavić's widow, writer Jasmina Mihajlović.
Monument dedicated to Milorad Pavić, work of university professor and sculptor from Baku – Natigu Alijev, is three meters high. It's made of bronze plating, and have special seismic construction. Sculptor Alijev, in order to introduce with writer's life and work besides photography, film and video, traveled to Moscow to see Pavić's monument in the Alley of writers, the work of Russian sculptor Grigorij Potocki, which is set in the capital of Russia in 2008, during his lifetime.