Unveiled a monument dedicated to Milorad Pavic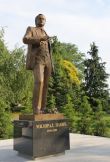 In the newly reconstructed Tasmajdan park 8th June 2011, in downtown of Belgrade a monument dedicated to Milorad Pavic was unveiled . Monument was revealed by Serbian President Boris Tadic and President of Azerbaijan Ilham Aliyev.
 Three meter high monument made of bronze plating is work of sculptor Natigu Aliyev, university profesor from Baku and member of Russian Academy of Arts.
On the occasion, special deluxe edition of Milorad Pavic's Dictionary of the Khazars – translation on Azeri language was printed, with photography of the monument.